Is Windows 10 free upgrade really free?
Published on 2015/06/21 by Igor Levicki
UPDATE (2015/07/28):
What I have been saying all along is now official information in the Windows 10 FAQ — Windows 10 free upgrade will make your existing retail license non-transferable.
ORIGINAL ARTICLE
Microsoft has announced that people with valid licenses (be it OEM or Retail) for Windows 7 and Windows 8.1 will be able to upgrade to Windows 10 free of charge. Since then, there has been a lot of speculation what exactly is the meaning of the word "free" in that context.
We all know that upgrading an OEM license will result in you still having an OEM license, after all there is no business justification to give you more rights than you already had to begin with. But what happens to your retail license?
According to the currently available information posted some time ago by General Manager of Microsoft's OSG Data and Fundamentals team Gabriel Aul, once you upgrade your retail license it becomes non-transferrable to another PC (i.e. it becomes an OEM license tied to specific hardware).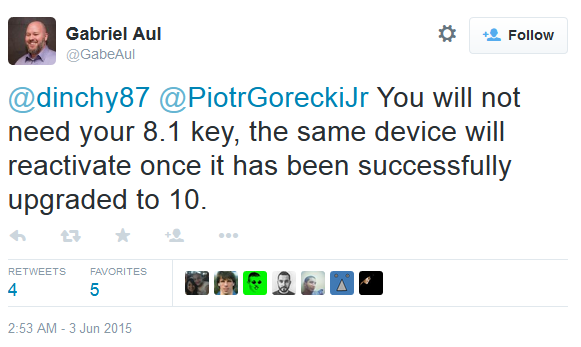 His reply is very carefully worded, but for me there is no doubt what "the same device will reactivate" means — it means your retail license will be downgraded to OEM for free. Many people including me have asked Gabriel Aul for clarification and he promised to follow up with more details, but so far there is no clear answer from Microsoft and until we hear otherwise, we should assume Qui tacet consentit.
I have purchased Windows 8.1 even though in my opinion it was a half-baked abomination of touch interface tacked onto a desktop OS because I needed it to get the maximum perfornance out of my hardware. The news that upgrade to Windows 10, which brings back the Start Menu and undoes at least part of the damage done by trying to force the desktop environment out of the picture, will be free was therefore most welcome.
Many people will say "don't look a gift horse in the mouth" so it is important to note that I am not unappreciatively questioning a gift nor I feel entitled to get more than Microsoft is ready to offer — I just expect them to communicate their free deal terms clearly, so I can make an informed decision whether to take their offer or not.